De Handtied Weft is met de hand geknoopt en heeft een nog dunnere band dan de Machine Weft, waardoor de Handtied Weft zeer geschikt is voor dun, fijn of weinig haar.

De Handtied Weft wordt in een aantal banen geleverd. Het aantal banen is afhankelijk van de lengte. Hoe korter de lengte, hoe meer banen.
Voor haarverlenging verdeelt u de Handtied Weft in meerdere banen over het hoofd.
De Handtied Weft is ideaal om binnen 60 min. een haarverlenging in het haar aan te brengen.
De Handtied Weft is herbruikbaar en kan na 8 tot 10 weken weer omhoog geplaatst worden.

De Handtied Weft kan op verschillende manieren in het haar bevestigd worden:
~ Met keratine bondings.
~ Met microringen.
~ Met nanoringen.
~ Met weave draad.

De Handtied Weft is leverbaar vanaf 35 cm lengte.
Het minimum aantal te bestellen gram van de Handtied Weft is 100 gram.

1 KLEUR
Kies deze optie indien u minimaal 100 gram van 1 kleur wil bestellen.

PIANO KLEUREN
Kies deze optie indien u minimaal 100 gram van de Piano kleur wil bestellen.
De Piano Colour Handtied Weft heeft 2 kleuren, 50/50 verdeeld.
U kunt zelf kiezen welke 2 kleuren u in de Handtied Weft wil hebben bij "Kleur 1" en "Kleur 2".


Sorteren op:
Aantal weergegeven: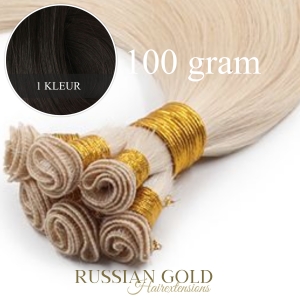 Aantal gram Handtied Weft dat u nodig heeft: ~ Volume: 50 gram. ~ Lengte & volume normaal haar.....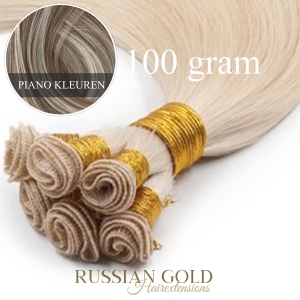 De Piano Colour extensions hebben 2 kleuren in 1 extension of hair weave, 50/50 verdeeld. U ku.....
Reserveer hier uw salonafspraak voor het zetten van uw Handtied Weft. Uw hairextensions worden op p.....
Producten 1 t/m 3 van 3 (1 pagina's)