Tape-In Extensions zijn eenvoudig en snel te plaatsen en zijn nagenoeg onzichtbaar in het haar door de dunne, doorzichtige en flexibele band waarin de haren zijn bevestigd.
De Tape-In Extensions kunnen gemiddeld 8 tot 10 weken in het haar blijven zitten en zijn met de Re-Tape eenvoudig weer opnieuw terug te plaatsen in het haar.

De Tape-In Extensions zijn verkrijgbaar in 4 cm breed à 2,5 gram en 8 cm breed à 5 gram.


LET OP:
Breng nooit haarolie, serum, conditioner of haarmasker aan op of vlakbij de tape bondings.
Hierdoor kan de tape loslaten en de hairextension uit uw haar zakken.

Voordat u besteld:
De levertijd van alle hairextensions is ong. 2,5 week.
Kijk HIER voor meer informatie over de levertijden.
Kijk HIER

voor meer informatie over de texturen.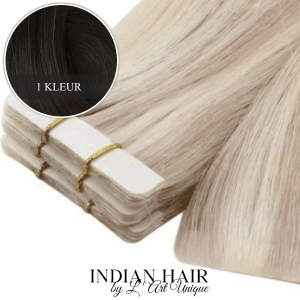 Aantal gram Tape-In hairextensions dat u nodig heeft: ~ Verlenging dun haar: 100 gram. ~ Verlengin.....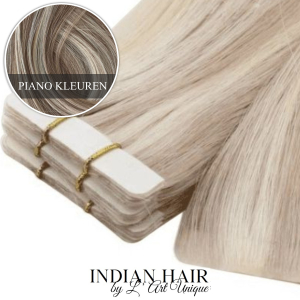 De Piano Colour extensions hebben 2 kleuren in 1 extension of tape, 50/50 verdeeld. U kunt zel.....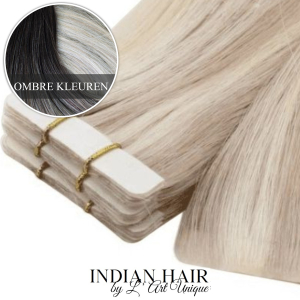 De Ombre Colour extensions hebben 2 verschillende kleuren in de aanzet en de lengten. U .....